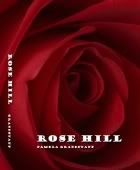 Rose Hill is the scene of the crime. It's your average, small town gossip haven. Theo, the town bully and the town drunk, has been found dead. None of this small town's population are saddened. Actually it's quite the opposite. It seems everyone has had words with Theo at one point or another. Most people in the town believe that they are better off without Theo around. This makes police chief, Scott Gordon's, job very difficult.
Maggie Fitzpatrick, a fiery redhead with attitude, owns the local bookstore and Scott's heart. Maggie and her best friend Hannah, go looking for clues on their own and uncover a secret so big that it incriminates almost the entire town.
I really enjoyed this book. Pamela is so good with her descriptions that I feel like I was actually a part of Rose Hill. I'm a sucker for a good mystery and I'd rate Pamela up there with Mary Higgins Clark.
Thank you to Pamela Grandstaff and LibraryThing for sending me this book to review.