Penguin Group is celebrating the launch of a new monthly radio series called
The Literary Life
. Completely written, produced, and hosted by Penguin employees, The Literary Life features literary fiction and nonfiction from bestselling, critically acclaimed authors and fast-rising newcomers. It's hosted by Jake Morrissey, Executive Editor at Riverhead Books. Each episode will debut on the last Tuesday of the month.
In addition to candid interviews with authors, regular segments on The Literary Life include: Inside Publishing, featuring a publishing personality giving a behind-the-scenes look into the book industry; Writer's Rant, where authors are given the floor to vent; and Penguin Mix Tape, featuring interviews and performances by musicians-turned-authors.
In this episode, singer-songwriter Rosanne Cash, author of the new bestselling memoir Composed, answers questions and performs "The World Unseen." Maile Meloy, author of the bestselling collection Both Ways is the Only Way I Want It, and Doug Dorst, author of The Surf Guru and Alive in Necropolis, discuss the art of the short story. Sloane Crosley, author of the bestselling essay collections I Was Told There'd Be Cake and How Did You Get This Number, rants about punctuation.
Penguin Group wants to give one of my readers a copy of:
With the publication of his debut novel, Alive in Necropolis, Doug Dorst was widely celebrated as one of the most creative, original literary voices of his generation-an heir to T.C. Boyle and Denis Johnson, a northern California Haruki Murakami. Now, in his second book, The Surf Guru, his full talent is on display, revealing an ability to explore worlds and capture characters that other writers have not yet discovered.
In the title story, an old surfing-champion-turned-surfwear- entrepreneur sits on his ocean-front balcony watching a new generation of surfers come of age on the waves, all but one of whom wear wet suits emblazoned with the Surf Guru's name. An acid-tongued, pioneering botanist who has been exiled from the academy composes a series of scurrilous (and hilarious) biographical sketches of his colleagues and rivals, inadvertently telling his own story. A pair of twenty-first- century drifters course through a series of unusual adventures in their dilapidated car, chased west out of one town and into the next, dreaming of hitting the Pacific.
Dorst's characters have all successfully cultivated a particular expertise, and yet they remain intent on moving toward the horizon, seeking hope in something new. Likewise, each of Dorst's stories is a virtuoso performance balancing humor and insight, achieving a perfect pitch, pulsing with a gritty and punchy, distinctly American realism- and yet always pushing on into the unexpected, taking us some place new.
One of my readers will win a copy of this book
Open to residents of the US
Cannot mail to a P.O. Box
The book(s) will be mailed out by the publisher


MANDATORY ENTRY:

You MUST leave a comment on my review. It doesn't need to be a long drawn out comment, anything with do.

EXTRA ENTRIES:

+10 for liking The Literary Life on Facebook

+5 for following this blog

+5 for following Bridget on Twitter

+5 for following Krista on Twitter

+5 for following my sister on Twitter

+10 for tweeting this (can be done up to 3 times a day):



+10 for linking to this contest - make sure you leave the link in your comments (on your blog, - sidebar counts, Myspace, Facebook, etc.) THIS CAN BE DONE ONCE A DAY per site

+5 for following Readaholic

+5 for following You Wanna Know What I Think...

+5 for following my sisters blog MamaKnows

+5 for friending Bridget on Facebook

+5 for friending Krista on Facebook

+5 for friending my sister on Facebook

+10 for adding the Readaholic button to your blog

+10 for adding the It's My Life button to your blog

+10 for adding You Wanna Know What I Think button to your sidebar

+10 for adding the MamaKnows button

+2 if you enter another one of my giveaways (+2 for each)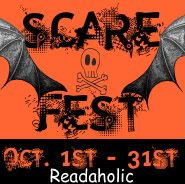 *Current friends/followers receive the extra points as well - just make sure you remind me in the comments*

**Must leave an email address in comment or must be visible in blogger profile**

Winners will be chosen Sept. 3rd at 12.01 am and notified via email. The winners will have 48 hours to send me their mailing info or another winner will be chosen.

Official Rules - *No purchase necessary. Void where prohibited. *Entry instructions, additional eligibility requirements, prize information listed on individual giveaway posts. By submitting an entry, entrants agree to these rules and agree that they are eligible to enter. The sponsor is responsible for sending the giveaway items.




Disclosure: I received a copy of this book for free from Penguin Group. All opinions expressed are 100% mine. If you purchase a book using my Amazon or Barnes and Noble link, I will receive a small portion of the purchase price.